by Authors:
W. Gregg Strawn – Sole Proprietor, Minister of the Word
Tim Emmerich - GraceWorks Interactive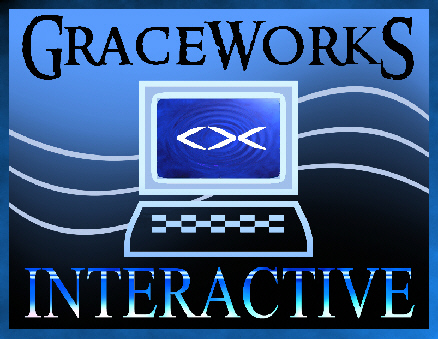 Version 1.1, © 2003-2005, All Rights Reserved
Credits
Our Lord and Savior, Jesus Christ.
Corel for some graphics.
Tigertail virtual museum (TigTail.Org) for Stained-glass_parable_of_the_sower picture (they don't know source or date)
Some illustrations from John S. C. Abbott and Jacob Abbott Illustrated New Testament (1878) as Entered, according to Act of Congress, in the year 1878, by Henry S. Goodspeed in the office of the Librarian of Congress at Washington.
Some illustrations from Jerome Nadal's 16th century publication of woodcuts.
Some illustrations from The New Bible Symbols, by M. Bihn & J. Bealings.
FlamingText.com and CoolText.com for GIMP powered Logos.
Some pictures or models from TurboSquid.
Matt Mooney for some illustrations.
Marcus Johnson for some illustrations.
Don "Pappy" for some 3D Poser models.
Howard Kenyon for texture and illustration improvements.
Steve Hartman for leading the texture artwork improvement effort.
Keith Cawthorne of The Sage Works for packaging and web work.
Clipart and Photos from Nova Development's Art Explosion – Seasons, Events & Holidays.
Some graphics were from FreeStockPhoto.com.
Fresh Music, Royalty-Free Music.
Heath Cloutier for wonderful voice-over work.
Alejandro Garcia-Flores, Alfonso M. Camacho Ortiz, Jenny Perry, and Marissa Strawn for the Spanish Translation.
A big thanks to our testers - Jacob Emmerich, Elizabeth Emmerich, Matt Teboe, Shem Bingman, Neil Macqueen, Clint and Jennifer Herron, and Brenda Huff.
Zondervan for NIV Usage - Scripture quotations marked (NIV) are taken from the HOLY BIBLE, NEW INTERNATIONAL VERSION®. NIV®. Copyright © 1973, 1978, 1984 by International Bible Society. Used by permission of Zondervan. All rights reserved.
Academics 3D/Action Gallery for this awesome technology thanks to:

Game art, programming, and design by Stone (Michael Peter) Engelbrite
Subject by L. Eve Engelbrite
Level Design and Testing by Mike (Andrew Michael) Engelbrite
Many thanks to the people at BlitzCoder.com for sample code snippets and functions, especially Jeppe Nielson for bbgui.
About the Authors of The Interactive Parables:
W. Gregg Strawn has been a minister for over 20 years serving both youth and congregations.
Tim Emmerich is an engineer by training but has been working towards increasing the public's awareness of Christian Games.