Interactive Parables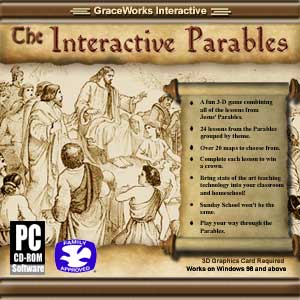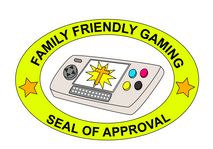 Full-Sized Jewel Case Version CD Insert Shown, other packaging options shown below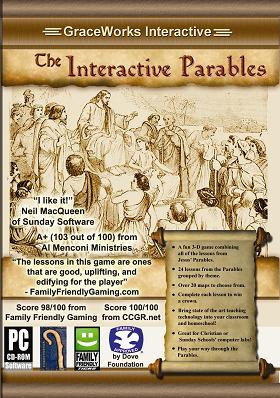 DVD Case Insert
More info at GraceWorks Interactive Site
Click here to see a video of the game (mpeg)
The Interactive Parables is a fun, 3-D game combining lessons from the Parables of Jesus. There are twenty four lessons from Jesus' Parables grouped together by theme. Complete each lesson to win a crown. A great Bible-based product for your family, church or home school. Students 10 and older will enjoy it. Younger students would enjoy it as well with parent partners.
Within the game, you will fly, slide, jump, bounce, dodge, search, and solve puzzles in 20 game levels. Meanwhile, you are learning about the lesson based on Jesus' Parables. The Interactive Parables is a great tool to have fun and learn at the same time. With twenty four lessons, it fully covers every Parable told by Jesus Christ. It proavaimotes understanding and retention while providing positive experiences for students. It requires Windows 98, ME, XP, or XP Pro and 3D graphics capability. It's packaged in either a full or slim-line jewel case.
The Interactive Parables Offers 24 Lessons and 20 Game Levels
The Debtors & the Great Pearl
The Friend at Midnight & 10 Virgins
The Good Samaritan
The Good Shepherd
The Growing Seed
The Lost Coin & Lost Sheep
The Prodigal Son
The Merciless Servant
The Mustard Seed & Yeast In Dough
The Rich Man & Lazarus
The Rich Young Fool
The Sheep & Goats
The Shrewd Manager
Two Sons & Barren Fig Tree
The Sower - Details
The Sower - Explained
The Talents and Minas
The Vineyard Workers
The Wedding & Great Banquets
The Weeds & Fishing Net
The Wicked Tenants
The Widow, Pharisees, & Tax Collectors
The Wineskin
The Wise Men
Game Levels
Simple
Floaters
One Floor
The Pyramid
Three Pyramids
Square Room
Pyramid Maze
The Wandering Path
Bizarre World
The Great Hall
Mole Hills
Standing Tall
The Mines
Chimneys
The Dark Castle
TriRoom
One Way
Barrel Factory
Leap Of Faith
Drum Room
Slim Jewel Case and DVD packaging is available.
The DVD case graphic looks like:

NEWS
The Spanish Version is done thanks to Alex, Poncho, Stone and Jenny. We need to refresh the demo still.
Also, Steve is working on make some new textures that will help jazz up the looks of whichever maps we assign those to.
And some excellent artists are helping to spruce up the black and white Bible Illustrations, coloring them! Many thanks to Antonio, Richard, Eden, Shawn, Ree, and Billy.
Working on a 10th Anniversary Edition! Already have a new software build, need to gather the "goodies" to be included with this special version.
Help
If you need any game assistance, please consult the help pages first.
History
Some history of Interactive Parables, including the various package changes over time.
Online Store - Christian Games NOW
Interactive Parables - Screen Shots


One of the power ups you can obtain is Armor - the above shot shows the armor activated.


Boots abound to squish you - if you time it right, you can go under some but probably best to avoid them where possible.

Rolling barrels will squish you as well!

Some maps will put your jumping to the test. Remember that you can do short jumps by walking and then jumping versus running and jumping.

Each map has a different look about it as well as different challenges.

Catch a ride on a zeppelin to ride to areas on the map that may be hard to get to. Some other shots of the Zeppelins.



The Levels/Maps can be multi-level as seen in this "Drum Factory" map. Here is another view of Drum Factory.


Fiery Darts and Large Boots are just many of the obstacles to avoid.

Some maps have force fields that have to be navigated around.

Be sure to visit the hearts as they restore your health and save your progress.

Narrow plank ways can be a challenge and be sure to avoid the large walking boots.

On the Chimneys level, one better not be afraid of heights! Lots of fun jumping, puzzling platforms that disappear, and more. Another screen below.


If you are trying to get the maximum amount of points, be sure to gather all the gold plus signs.

If you gather all five gems in a level, you can complete the map and win a crown. Thanks to Paul Bury for Screen Shot.
Espanol - Las Parábolas Interactivas
Click Here for Press Release Announcing Las Parábolas Interactivas (rich text format file)
News
What a blessing! Family Friendly Gaming has recognized Interactive Parables by inducting Interactive Parables into their Hall of Fame last year (2013). What an honor! This year, GraceWorks Interactive was inducted!
Support
Do you have a Tablet PC? You will need to make this one change so that Parables will run smoothly.
Locate the shortcut to the executable for the game or demo (or use file manager and navigate to where you installed it, probably something like c:\program files\Interactive Parables).
Right click on the .exe or the shortcut icon, and click properties from the pop-up menu
Click on the far right tab (Compatibility).
Check the box in front of "Turn off advanced text services"
Then click okay
Reviews
Al Menconi Ministries rated Interactive Parables as A+ (103 out of 100)!
Family Friendly Gaming assigned a score of 98 out of 100.
The Dove Foundation assigned it four out of five Doves and said:
The stories throughout this game are great for learning what Jesus wanted us to get from His parables. They ask questions to get you to think a little deeper than just listening to the story.
I personally liked this game because it has classic Bible stories with a great lesson to be learned from each one. With any 3D game the graphics aren't that great. But the game play is very well done. If you have the means I highly recommend picking one up.
- Alex Lukens of Dove
100/100 from Christ Centered Game Reviews
---
Customer comments
"We had to force the kids (9-year-old boy & 12-year-old girl) to stop playing Interactive Parables so that we could play with them." -
Jannie, Oregon
"Overall, great game! Keep up the great work! I'm totally impressed!" - Clint, Indiana
"The "Interactive Parables" game has arrived. I have been enjoying
it and am looking forward to trying it out more today. I really like
'first person' games and it's neat to be able to have one that is
different & positive, without shooting. It's relaxing to play." -
Brian H.
Our son loves this game. He plays it every day! This is from the 20 year old gamer who loves the action of Star Wars games! This game satisfies his desire for action. - Diane, Texas
"These games are interesting to play, easy to understand and made learning fun!"
homeschooler - Andrew age 14 years.

---
The latest version is 2.0 (look at the Help file, Credits section, or on the splash/menu screen in the bottom right). If you have anything older than that, please Email support (support@graceworksinteractive.com) to get updated.
Note that we are continuing to improve on the product - you'll be notified when they are available if you have registered (and it will be posted here). We currently have more textures, better wall decorations, and voiceovers in progress.
---